[youtube width="600″ height="338″]http://www.youtube.com/watch?v=FmNAEAd9wfI[/youtube]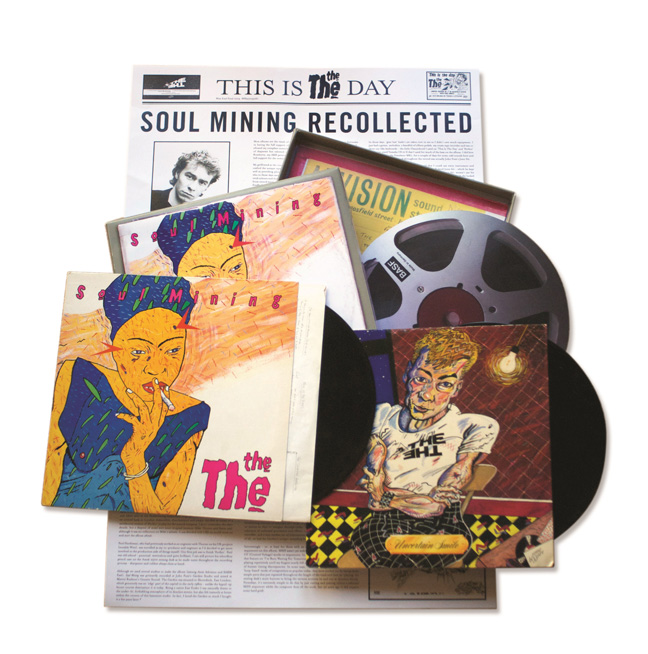 THE THE are pleased to announce details of the release of the Soul Mining 30th Anniversary Deluxe Edition Boxset, a re-mastered, re-packed and expanded version of their major label debut album, Soul Mining, on Monday June 30th through Sony Music.
A couple of special events have been organised to celebrate the release.
At Rough Trade in East London on the day of release (June 30th) has been organised that includes a Q&A with Matt Johnson and DJ Food about the making of Soul Mining. Order a copy of the boxset from Rough Trade and receive two tickets for this one-off event.  CLICK HERE TO BOOK
Soul Mining is an album often requested by Classic Album Sundays attendees and the exclusive event on July 1st features an interview with Matt Johnson by CAS founder Colleen 'Cosmo' Murphy, a vinyl replay of the entire album on our audiophile hi-fi, followed by a Q&A between Matt Johnson and CAS attendees. CLICK HERE TO BOOK

In the meantime you may be curious to read about the making of Soul Mining in the following interviews in Quietus and Monocle


Re-mastered at Abbey Road Studios from the original master tapes by Matt Johnson and packaged in a lavish 12" box, this vinyl only release includes an authentic reproduction of the 1983 release on 180g vinyl, plus an extra 12" gatefold vinyl of alternative versions and remixes.
For the free digital copy, the re-mastered audio has then been dubbed from new vinyl test pressings recorded from Matt's original 1982 Thorens TD-147 gramophone player using patent 'Dubbed-From-Disc' technology, obtainable via a download code contained within the boxset.
Apart from the re-mastered album the boxset also includes a unique 'news-poster' containing extensive notes written by Johnson that detail the making of the album, the bonus vinyl of alternative versions and remixes contained in a gatefold sleeve, the panels of which contain the original artwork for 'Uncertain Smile', 'Perfect', and 'This Is The Day' plus a master tape circular card insert, containing credits and the download code.
Originally released on 21st October 1983, the recording of Soul Mining began in the spring of 1982, when the then 20-year old Matt Johnson, financed at this point by London Records, de-camped to New York to record 'Uncertain Smile' with producer Mike Thorne.
A subsequent session, again in New York with Thorne, and featuring David Johansen of the New York Dolls, resulted in 'Perfect', yet both sessions, and the deal with London Records, were subsequently scrapped when THE THE made an audacious switch to CBS Records and decided to start the album afresh.
Work on the album was reconvened at John Foxx's Garden Studios in the then pre-gentrified Shoreditch area of East London with Matt co-producing with Paul Hardiman – the album was subsequently mixed at Martin Rushent's Genetic Sound studio.
Featuring a host of talented musicians, including JG Thirlwell (aka Foetus, Manorexia and Steroid Maximus), Zeke Manyika (Orange Juice), electronic DIY pioneer Thomas Leer and Jools Holland, Johnson set out with a clear vision in mind – to produce an album that felt cinematic; a record of width, depth and texture and one which avoided the mundane line-up of the day of guitar, bass and drums.
The track listings of the two albums are as follows:
LP 1 – SOUL MINING
1. I've Been Waitin' For Tomorrow (All Of My Life)
2. This Is The Day
3. The Sinking Feeling
4. Uncertain Smile
5. The Twilight Hour
6. Soul Mining
7. Giant
LP 2 – SOUL MINING RECOLLECTED
1. Uncertain Smile (New York 12" version)
2. Perfect (New York 12" version)
3. This Is The Day (12" version)
4. Fruit Of The Heart
5. Perfect (London 12" version)
6. I've Been Waitin' For Tomorrow (All My Life) (12" mix)